In El Paso County alone, there were 12, 119 reported accidents in 2019. In the entire State of Colorado, there were 121,648 total accidents reported in 2019.  Unfortunately, given these statistics by the Colorado Department of Transportation (CDOT), it is likely we or someone we know will be involved in an auto accident. Ultimately, it is important to know the best possible resources following what can be a very traumatic and uncertain time.  Our practice was founded for the purpose of providing exceptional medical care and treatment plans for patients who are suffering injuries due to an auto accident.
Even in mild accidents, like fender benders, your body absorbs a significant amount of force. The neck, shoulders and back and associated soft tissue often sustain the greatest impact from an accident. Injuries like whiplash is often not noticed until a day or two after the accident. Injuries left untreated, can cause a series of long term issues as your spine, muscles and ligaments heal in an abnormal position. Victims of auto injuries that do not have their injuries truly evaluated and treated will ultimately become long term chronic pain patients for the rest of their lifetime.  Below we provided information and helpful tips that we truly believe will minimize the uncertainty or delay for treatment after a traumatic event.
Most Common Injuries Reported After an Auto Accident
While injuries may vary due to the severity of the auto accident, these are the most commonly reported injuries and should be evaluated and treated by a qualified medical provider immediately;
·         Neck Pain/Stiffness
·         Back Pain/Stiffness
·         Whiplash
·         Headaches and Migraines
·         Dizziness
·         Shoulder or Arm Pain
·         Blurred Vision
·         Muscle Pain
·         Leg Pain
·         Difficulty Concentrating
·         Sleep Disturbances
·         Fatigue
·         Muscle Stiffness and Spasm
·         Strains/Sprains
·         Jaw Pain
·         Anxiety
·         Sciatica Pain
·         Hip Pain
·         Incontinency
Important Steps After Your Auto Accident
Schedule a Medical Evaluation: It is extremely important to seek a medical evaluation immediately. Auto insurance companies actually take into account the time at which you seek medical treatment. For example, seeking treatment three weeks after your accident might be too late; which can greatly compromise your case. While some people go directly to an Emergency Room or Urgent Care, others may wait as they may not feel their symptoms right away. Despite the assumption that you may not be critically injured, it is still beneficial to seek a medical evaluation.  Refer to the section below on Auto Injury Providers to understand ideal providers you should contact to schedule an evaluation.
Understand the Benefits to Diagnostic Imaging: Our office can provide a thorough physical examination along with evaluate the need for further imaging; if not already completed at the ER (like an MRI or Xray). Based upon the radiology report findings, a treatment plan will be established to quickly alleviate pain/stiffness along with stabilizing and strengthening the problems caused by your accident.
Understand the Benefits to Conservative Treatment: It is common for most injuries to be referred to conservative therapy as part of your treatment plan. It is important to attend those recommended appointments for Physical Therapy or Chiropractic as ordered by your provider.  Any gap in care or missed appointments will reflect negatively on your case to your auto insurance carrier. Our office works in conjunction with other highly qualified medical professionals in the areas of; chiropractic, physical therapy, massage therapy, acupuncture or surgical evaluations to ensure you establish a detailed plan that is obtainable for your healing journey.
Auto Injury Providers & Case Management
 In addition to the urgency of seeking medical care immediately following an auto accident in which you have sustained injuries, it is important to understand what type of medical providers specialize in auto injuries. While many providers may advertise treating for these injuries, it is important to know WHO will be handling your case from a medical provider perspective. The medical doctor is the key to your case. Without a qualified auto injury provider, patients do not have a case at all. Your medical provider needs to legitimately prove that you underwent the trauma of your auto accident, providing great detail as to how it has impacted your daily life. An auto injury doctor, that specializes not only in these types of injuries, but has been involved in multiple cases will know how to document your medical diagnosis, treatment plan and future medical treatment needs, if reasonable.
It is not uncommon for most people to call and make an appointment with their Primary Care Provider (PCP) to seek medical care after an auto accident. Unfortunately, what they quickly learn is that their PCP does not manage billing operations for auto accident injuries. This does not mean your PCP will not treat you; it typically means they will request you pay in cash. Most PCPs are set up to bill our health insurance, not  our car insurance, which means they cannot bill third party. Most of us simply cannot afford to pay out of pocket for medical treatment, so it is important to seek a provider that is set up to bill third party and provide treatment with NO out of pocket costs to you.
How Do I Pay for My Medical Care?
As an office established to meet the needs of patients who have been injured, we have all the financial options in place to assist our patients.  At Pikes Peak Spine & Joint, we bill your auto insurance company, hold our own direct medical liens and we will also accept third party liens.  In addition, if you find you will need to retain an attorney,  we will work closely with your attorney throughout your case. We have dedicated staff that will keep your attorney apprised of your treatment plans and progress. Our team takes great pride in assisting our patient community in dealing with your auto insurance company, attorney and other auto injury providers to make sure you get the appropriate and necessary care required.
Why Pikes Peak Spine & Joint?
Our Medical Director, Dr. Kerry Latch, MD, is triple board certified in Pain Management, Anesthesiology and Regenerative Medicine. Dr. Latch currently dedicates all of his practice to interventional pain management and regenerative medicine in the spine and joints. He has a special interest in utilizing ultrasound and fluoroscopy guided techniques, spinal and peripheral nerve stimulation. Dr. Latch has been specializing in patients with auto injuries for over 10 years and has been involved in 1000s of successful cases due to his detailed medical documentation, willingness to fight for his patients' medical care and develop a successful road to recovery.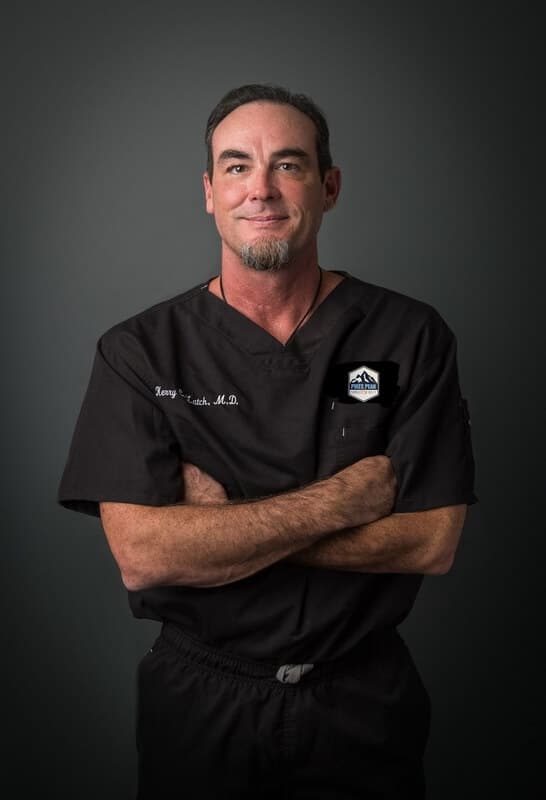 Kerry C. Latch, M.D.
Board Certified in Pain Management, Anesthesiology and Regenerative Medicine, Kerry Latch received his medical degree from Texas Tech University Health Science Center. He is board certified by both American Board of Anesthesiology and the American Board of Pain Medicine. Dr. Latch completed his Anesthesiology residency at Walter Reed National Military Medical Center and was fellowship trained in Regional Anesthesia and acute pain management at Texas Orthopedic Hospital in Houston, Texas. He has been practicing since 2003.

Brandi Kvelums
Customer
I was referred to Dr. Latch and his team by my doctor. After many years of back pain due to an injury in the military, my current job as a police officer was becoming more and more difficult. I saw Dr. Latch and not only is he one of the kindest people I have ever encountered, he is a doctor that listens and cares and those are hard to come by these days. I was terrified to get my procedure done and after talking to him and telling him about my fears, I went into the room and laid on the table confident that I would be taken care of. Although uncomfortable and a little painful, Dr. Latch and his assistant talked to me about my job, my family, joked with me, and made my experience as comfortable as possible. Within a couple days my pain I had been dealing with for so long was nearly completely gone. For the first time in just over 6 years, I felt like I had my life back.

Every time I walk into the office I am greeted by name and with a smile. I am asked how not only I am doing but my son who they have never met. I look forward to my check ups and seeing the staff and I can't say that for any other doctor I have met. They are ALL amazing and I wouldn't trust my spine with anyone else!!

Allison Pearman
Customer
I've had one injection go into my neck, so far, and it went flawlessly. They went over everything and made sure to answer any questions I may have had. The injection itself was very easy to get through. Everyone I have met that works that is awesome; professional but family-like. Thanks y'all!

Steve Conner
Customer
Awesome experience!! the staff is excellent from Dr latch to Susan to Heather they're just very nice very professional!! they definitely know what they're doing! the clinic isn't here to give just medications they offer better remedies along with the injections , they've hooked me up with a stimulator machine!! the stimulator machine has helped me out tremendously!!! I've been using it for just a week and it's the best thing that they have prescribed so far !! they are a great great place to go get work done for your back and whatever else ails you I highly recommend them!!

Shellie Kiper
Customer
I love the staff at Pikes Peak Spine & Joint! They are all so friendly. I truly feel like my concerns are heard & cared for. They are also very realistic with what they can & cannot do. I'm grateful to have found them.

Lydia Nistor
Customer
The staff was very friendly, courteous, and caring. I didn't wait long after digitally filling out my documents for my first visit. Very clean facility and rooms.

Dane
Customer
Dr. Latch and Dr. Sandoval are about as highly skilled, caring, and professional as you will ever find. They take as much time as necessary to get to know you on a personal level and understand your pain and injury history. They walk through all of your treatment options and recommend what will be most effective to treat your injuries.

Pikes Peak Spine is the treatment that you deserve. I have recommended my own family see them, which they have, and will continue doing so in the future